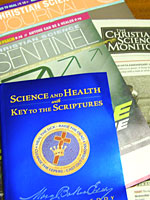 Everyone is invited to visit and use our Reading Room:
The Reading Room provides a quiet setting for you to study and pray. In addition, it is your resource for buying and borrowing books including the Bible and Science and Health with Key to the Scriptures by Mary Baker Eddy, the discoverer and founder of Christian Science. You will also find related books and magazines, including the Pulitzer Prize-winning Christian Science Monitor, our international daily newspaper. You are invited to relax and read in the Reading Room and borrow or purchase items to take with you. A librarian is available to answer any questions you may have.
We have moved!
The Reading Room is now located in the church. Call the Reading Room for hours. If you have any questions we will be happy to try to answer them.
You will find us at (map):
First Church of Christ, Scientist
Side entrance
61 Neal Street (in the West End)
Portland, ME 04102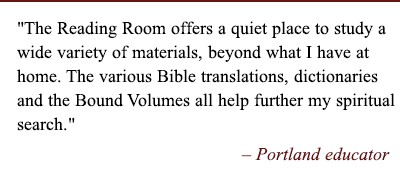 Our hours:
10 – 1 M, W & F
plus a short time after each service.
Contact us via phone or email:
207-772-0996
csrrportlandme@gmail.com