You are invited to a free public talk entitled...
"From Hard Rock Singer to Healer"
How Christian Science heals bodies and restores lives

A '60's player with Janis Joplin, Jimi Hendrix and others, shares her spiritual journey...
Thursday, June 06, 2013 at 7:00 PM
University of Southern Maine in Portland
Wishcamper Center's Lee Hall, adjacent to the parking garage
34 Bedford St. (directions and map below)
Child care provided
You will find it at (map) Campus Map (map PDF)
Sponsored by First Church of Christ, Scientist, Portland, Maine
About the speaker...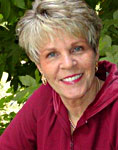 Ginny Luedeman, international speaker, practitioner and teacher of Christian Science healing from Salem, Oregon. She will candidly share her inspiring path to freedom from the effects of tragic events in her life, freedom from fear, low-self esteem, depression, substance abuse and from the general belief of alcoholism, and how the lives of others she has prayed with concerning these issues have been restored.
Flyer with more information and map

Questions? Please call 207-772-0996.