This week's Bible Lesson subject
Are Sin, Disease, and Death Real?
for the Sunday Service:  October 11, 2015

"Doth a fountain send forth at the same place sweet water and bitter?"
                                                                                                                                                    — James 3:11

This Lesson-Sermon may be heard in its entirety during our Sunday Service.
Join us every Sunday at 10:00 a.m.
Our Reading Room has moved to a new location. Learn more…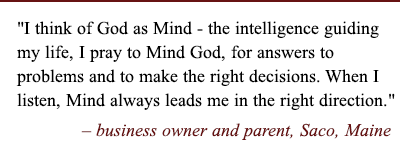 You will find us at (map):
First Church of Christ, Scientist
61 Neal Street (in the West End)
Portland, ME 04102
(207) 772-0996